Do you know when to report a medical device complaint?
September 14, 2022
---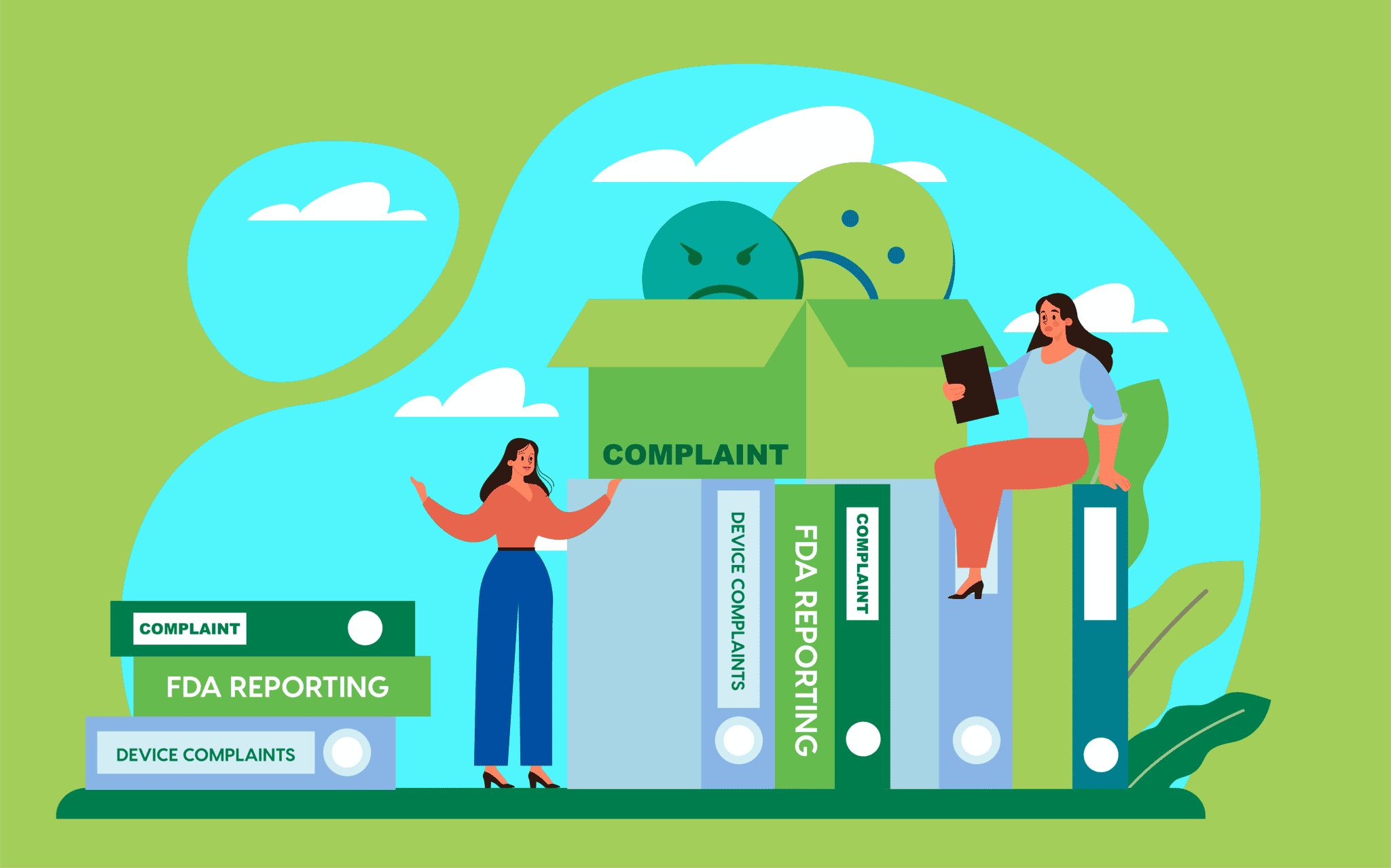 Whether you manufacture a Class I elastic bandage or a Class III deep-brain stimulation device, understanding when to report a medical device complaint is critical and is also required for all FDA regulated medical devices.
The FDA regulations around device complaint tracking, analysis and reporting are largely stagnant. However, these regulations apply universally. Therefore, it is essential that device manufacturers thoroughly understand and correctly apply these requirements in their procedures.
In a recent CLE presented by Gardner Law, we explored several device complaint scenarios and shared examples of how to navigate FDA regulations as it relates to complaint reporting.
Click below to view a recording of the program on YouTube
Short on time to watch the video? Here is a brief overview of complaint handling and medical device reporting.
Complaint Handling Basics
The countdown for a manufacturer to report a complaint to the US Food, and Drug Administration (FDA) begins the day any employee has information of a device complaint which reasonably suggests an adverse event has occurred.
Broadly speaking, according to 21 CFR 803.3(c), complaints may be attributed to a device malfunction, failure of the device to meet specifications, problems with device design, labeling errors, or device use errors. After receipt, each complaint must be investigated to determine if there is a relationship between the complaint and the device.
When analyzing complaints, it is important to keep in mind the multiple possible sources of device complaints. In an interconnected world, complaints are not merely passed along by word of mouth from patients to physicians to manufacturers, they can also come from social media posts, media reports, returned products, magazine or journal articles, and of course, a complaint portal on a company website. Companies must bear in mind that complaint sources are also international in scope. The FDA requires companies to investigate complaints occurring in products sold in a foreign country if those products are the same, or similar, to products sold in the United States.
User Error - a way out of reporting?
Product complaints resulting from user error may need to be reported to FDA. However, reports of adverse events which are not due to the device performance do not need to be reported.
The adverse event reporting requirement is balanced by 21 CFR 803.20(c)(2) which states that
"[manufacturers] do not have to report an adverse event if you have information that would lead a person who is qualified to a medical judgment reasonably to conclude that a device did not cause or contribute to a death or serious injury, or that a malfunction would be likely to cause or contribute to a death or serious injury if it were to recur."
This does not mean that all events resulting from user error do not have to be reported-that is too broad an application of this regulation. However, it does serve as a reminder that there must be a link to the device and the adverse event for the complaint to be reportable. In other words, that the device must have caused or contributed to a death or serious injury.
Investigations and Supplemental Reports
Reports are due to FDA within 30 days once anyone at the manufacturer becomes aware of the event. FDA requires manufacturers to submit information "reasonably known" to them in their medical device reports. The attributes of information "reasonably known" to manufacturers are provided in 21 CFR Part 803.50(b). This includes:
information the manufacturer can obtain by reaching out to a user facility, importer, or other initial reporter of a complaint,
information already in the possession of the manufacturer,
information the manufacturer may obtain from analyzing or testing returned product, and
information from other similar reports.
As a general rule, manufacturers must make three good-faith attempts, with one attempt in writing, to obtain information all the information required by 21 CFR 803.52 when submitting a Medical Device Report. If the report deadline comes and the manufacturer has not exhausted reasonable efforts to obtain information from the initial reporter, any required information that is received after the report is submitted either from (a) completing an investigation of the device or (b) from completing follow-up with the initial reporter, must be submitted to FDA in a supplemental report.
Conclusion
Complaint handling and medical device reporting consists of more than just timely filing adverse event reports.
Timely filing of medical device reports is an important part of 21 CFR Part 803. But to make sure that your company is not under, or over-reporting, manufacturers should be aware of the nuances that are not immediately apparent from a quick review of these regulations.
Click here to view a recording of Theo Thompson, Associate Attorney, Gardner Law, share more about this topic. 
Contact Us Information provided on this website is not legal advice. Communications sent to or from this site do not establish an attorney-client relationship. © 2022 Gardner Law. All Rights Reserved.